10 Questions Equity Research Analysts Should Answer Before Making a Stock Call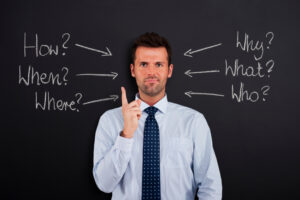 Over 80% of equity research lacks insight. That's what I learned from interviewing over 40 portfolio managers in New York City, London, Singapore and Tokyo. Let's face the fact that our industry lacks quality control measures (and a rigorous training program), which leads to heaps of compost (or other material used to fertilize your garden). It's not a surprise that equity research commissions have been declining in the U.S. for the past five years.
Narrow the call to just key elements by removing typical clutter
After watching countless talented buy-side and sell-side equity analysts struggle to convey their message on morning calls, stock selection and investment committee meetings, I created this list of questions to ensure they provide a worthwhile stock call.
The list narrows the call to just the key elements by removing the typical clutter. (Each question corresponds to the key elements of our ADViCE™ framework for making successful stock calls.)
Does your call succinctly begin with your upgrade/downgrade, becoming more/less positive or returning with support for a current recommendation? (Conclusion-oriented) If none of the above, ask how your communication will help others generate alpha.
Does your price target differ materially from the current stock price? (Conclusion-oriented). If not, ask how your call will help others generate alpha.
How do the two elements of your price target differ from consensus (Differentiated), specifically:

Do you have a superior forecast vs. consensus?; and/or
Do you have a superior future valuation multiple/method vs. the stock's current consensus-based valuation multiple/method?

If you have a superior forecast vs. consensus, which critical factor(s) is consensus wrong about? (Differentiated)
If you have a superior valuation multiple/method, why is the market likely to change its view between now and your price target? (Differentiated)
How have you validated your superior forecast and/or superior valuation multiple/method with more than one independent and informed source (refraining from relying on company management)? (Validated)
Why does the market not currently hold your view? (Aware)

What catalyst will need to occur to get the market to adopt your superior forecast or valuation multiple/method?; and
When will it occur?

Have you quantified the upside, downside and base-case scenarios for the assumptions surrounding the 1-4 critical factors where you differ from consensus as well as your conviction level around your assumptions? (Aware)
Have you identified where you could be wrong? (Aware)
Is your communication easy to digest in terms of quickly conveying the points above while also being concise and not overusing jargon? (Easy-to-consume)
If you recorded 13 question marks above, you get extra points for being a critical and thorough equity analyst. (I'm routinely fine tuning this list which means I sometimes need to get creative to keep it at "10".) When using the list above, you may not need to answer all questions for every stock call message, but the more the better.
Using the list above will get you more recognition as an equity research analyst because you'll be delivering the message portfolio managers want to hear.
If you're a buy-side equity analyst and think this doesn't pertain to you, you might want to ask your portfolio managers if they agree…remember what they told me above. If you're a sell-side equity analyst, I suspect you feel the pain, either yourself, someone you're training or colleagues you watch on your morning call, which can be reduced or eliminated by answers to the questions above before making the call.
Let me know if there are other questions to add to the list.
This Best Practices Bulletin™ targets activity #4, "Motivate Others to Act" (communications), within our GAMMA PI™ framework.
Visit our new Resource Center to find more helpful articles, reference cards, and advice towards your growth as an Equity Research Analyst.
©AnalystSolutions LLP All rights reserved. James J. Valentine, CFA is author of Best Practices for Equity Research Analysts, founder of AnalystSolutions and was a top-ranked equity research analyst for ten consecutive years