Finally, PCs That Live Up to All the Needs of Equity Research Analysts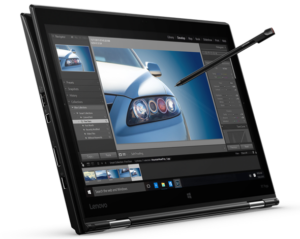 You can give 10 carpenters average quality hammers, saws and miter boxes and they'll produce a wide array of finished work.  If you give them all higher quality tools, you're likely to get some better finished products, but from only those who are masters at using the tools.
With this consideration as a backdrop, for the past 20 years I've been on a quest for the ultimate single computing device that can maximize an equity research analyst's productivity: in the office, during the commute, at home and on the road.  The device won't make the analyst smarter or uncover new insights on its own, but if used correctly, it speeds things up (e.g. searching notes) and reduces low-valued tasks (copying files from a home computer back to an office computer), thus freeing up time to generate more and deeper insights required for great stock picking.
Unfortunately, all of the technology I've tested until recently has been too heavy, slow, unstable or short of battery life.  I have a somewhat high bar because the perfect device should allow for taking notes with a stylus. To illustrate my pursuit, I recall using Lenovo's X41 tablet laptop ten years ago (it was the first laptop that could accept handwritten notes on its screen with a stylus), about 4 years before Apple unveiled the iPad.  Unfortunately, when Steve Jobs announced to the world it didn't need a stylus (he said to use your finger), the tech sector seemed to slow down its pursuit for the perfect note taking device.
A good computer won't make you smarter, but it can improve your productivity
Let truth be told, I'm a bit of a technophile (aka nerd), having voluntarily suffered along the bleeding edge of technology testing during my career as an equity research analyst.  In 1997 while working for Salomon Brothers in NYC, they asked me to beta test the "laptop as desktop" concept with the goal to issue analysts one device to be used for all purposes regardless of location.  Their efforts were worthy, but as computer applications demanded more power, the laptop couldn't compare to a standard desktop PC (and they didn't have a way to take handwritten notes on the devices back then).
So after about 20 years of waiting, the PC industry has finally caught up to meeting the real demands of the job, with the introduction of "2-in-1 convertibles."  There are many convertibles on the market, but as of the time of this writing, the four in the table that follows were the only ones that meet all of these criteria, which are important for an equity research analyst to remain productive:
Can be used with a stylus (aka digital pen) for taking hand-written notes (my preference is Microsoft OneNote); and
Have high-end processors (the high-end versions are available with Intel i7-6500U and i7-6600U series which are quite fast); and
Are relatively light weight (all but the last of the four below weigh three pounds); and
Have reasonably-good battery lives (over 5 hours and up to 10, depending on the resources being used)
2-in-1 Convertibles Ideal for Equity Research
| Specs | Microsoft Surface Book | ThinkPad X1 Yoga | HP Spectre x360 (13.3") | HP Spectre x360 (15.6") |
| --- | --- | --- | --- | --- |
| Screen size (inches) | 13.3 | 14 | 13.3 | 15.6 |
| Resolution | 3000x2000 | 2560x1440 | 2560x1440 | 3840x2160 |
| Weight (lbs) | 3.2 | 2.8 | 3.1 | 4 |
| Digital pen/stylus input | Included with device | Included with device | Purchased separately | Purchased separately |
| Most powerful processor available | i7-6600U | i7-6600U | i7-6500U | i7-6560U |
| Most memory available (GB) | 16 | 16 | 16 | 16 |
| SSD size for model priced below | 512 | 512 | 512 | 256 |
| Price (per manufacturer's website) | $2,699 | $2,123 | $1,969 | $1,759 |
In the table above, the column header links go to some of the base models, which means you'll need to put the device in a cart with the ideal configuration if you want to see the true price.  I strongly recommend spending a few hundred dollars to get the high-end make so you're not potentially disappointed by performance.
Before I give some thoughts on these devices, it's worth noting: these are expensive relative to standard laptops and desktop PCs and therefore are probably not ideal for analysts who:
Don't see the point of using their work computer outside of work hours; or
Don't envision taking notes on a computing device; or
Need a lot of processor power (e.g. opening multiple workbooks that link hundreds or thousands of cells to live market data providers throughout the day, displayed on three or more monitors)
Microsoft Surface Book
As much as I've been a ThinkPad fan for most of my career (primarily because it's the only brand my firms purchased), I bought the Microsoft Surface Book soon after its debut in September 2015. It's unique among the devices above because the screen detaches from the keyboard, converting it into a stand-alone tablet.  Unfortunately, after two weeks, I took it back because the software at the time was glitchy (would not transition from laptop to tablet smoothly) and I couldn't get comfortable holding the tablet-only portion while presenting (the steel frame doesn't provide anything to grip). It gets good reviews and so give it a look, although I do wonder how long it will remain a core focus of Microsoft, which isn't known for its hardware.
Lenovo X1 Yoga
A few months later I purchased the Lenovo X1 Yoga and have been very pleased.  Lenovo has had an "X" series for many years (e.g. my X41 above), which is their sleeker high-end line. They married the "X" series with their "Yoga" line, which has their 2-in-1 convertibles.  I was recently in a Microsoft store trying to understand why I would ever use Microsoft 10's "Tablet" mode (the rep said there's no need to turn that feature on within Windows), and the rep couldn't say enough about how he liked the X1 Yoga (a Microsoft Surface book was sitting a few feet away).
When I compare the X1 Yoga with the 3 other devices above, the two stand-out features that make it unique are:
It has Lenovo's trademark TrackPoint in the center of the keyboard, which I really like because it saves moving your hand over to a mouse hundreds or thousands of times a day. All of the devices above have the standard track pad, but I find them difficult to use for detailed spreadsheet work.
Lenovo has a better reputation for building and servicing hardware for businesses
HP Spectre 360
I'm so happy with the X1 Yoga, I haven't test driven the Spectre x360, although it also gets excellent reviews.  Of the high-end convertibles above, HP is the only brand offering a 15" model, which is great for viewing, but adds 25% more weight.  This might not sound like much, but if you're holding the tablet in your hand for an extended period of time (such as when presenting), or sitting it on your lap during a commute, it can be a meaningful difference. It may be a bit counterintuitive, but the 15-inch model is the lowest-priced among the four.  HP says it's because smaller is more expensive.
Power of the Pen
In terms of the digital pens/stylus:
I found the built-in X1 Yoga stylus too small and therefore purchased a full-sized Lenovo digital pen ($25)
The Surface Book's pen has the best design due to an ideal size and feel, and because it has an eraser
HP devices do not come with a pen or stylus, but from the reviews I've seen there are many HP and third-party options available
Other Considerations
For more details, check out these videos below from Mobile Tech Review, which is one of my favorite sites for evaluating laptops:
Lenovo ThinkPad X1 Yoga vs Microsoft Surface Book Comparison
Microsoft Surface Book vs. HP Spectre x360 Comparison
For Apple fans, unfortunately there isn't an equivalent all-in-one device.  I've heard good things about the Apple Pencil, which can be used with the iPad Pro (9.7" and 12.9"), but it can't run Windows which means you'll need to use the mobile version of Office and probably won't be able to load all of your favorite apps and services (e.g. Bloomberg, FactSet, etc.)
One important lesson I learned about half-way through my career is technology doesn't solve a company's problems unless management has the talent to deploy it.  Similarly, don't look for your computing device to derive better insights for stock picking, but being more organized by keeping everything in one place (including your hand-written notes), can open up more time to dig deeper to make better stock calls.
This Best Practices Bulletin™ targets #6. Productivity, of GAMMA PI™, within our Pathway to Success Framework.
Let me know if this Best Practices Bulletin™ helps and how I can improve upon this best practice. If you're interested in getting more productive with your time, AnalystSolutions provides equity research training with a specialized workshop to help Maximize Your Time for Alpha Generation.
Improve you or your team's stock picking and communication skills with our equity research analyst training tools, which includes workshops such as the one above, as well as our GAMMA PI™ assessment and one-on-one coaching.  Also, consider ordering the book that inspired the founding of AnalystSolutions and the Best Practices Bulletin: Best Practices for Equity Research Analysts.
Visit our new Resource Center to find more helpful articles, reference cards, and advice towards your growth as an Equity Research Analyst.
©AnalystSolutions LLP All rights reserved. James J. Valentine, CFA is author of Best Practices for Equity Research Analysts, founder of AnalystSolutions and was a top-ranked equity research analyst for ten consecutive years