Identify and Monitor a Stock's Critical Factors
(Free Preview)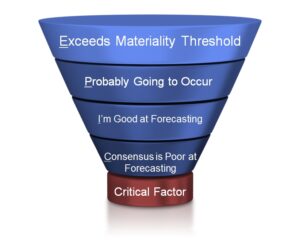 Thank you for your interest in our workshop Identify and Monitor a Stock's Critical Factors.
In this Free Preview, best-selling author James Valentine, CFA, teaches the importance of identifying just the few critical factors per stock, which helps analysts in generating informed insights, forecasting, making stock calls, communicating their calls, and for sell-side analysts, maximizing their client votes. He shares his EPIC™ framework to help analysts quickly process inbound information to separate potential critical factors from the typical "noise" surrounding their universe of stocks.
While the video below is just a brief preview, we have provided the entire Learner Workbook, as well as a preview version of our Slide Booklet, which can be downloaded below. To master this key skill, purchase the full version of the workshop which contains all of the videos and materials.